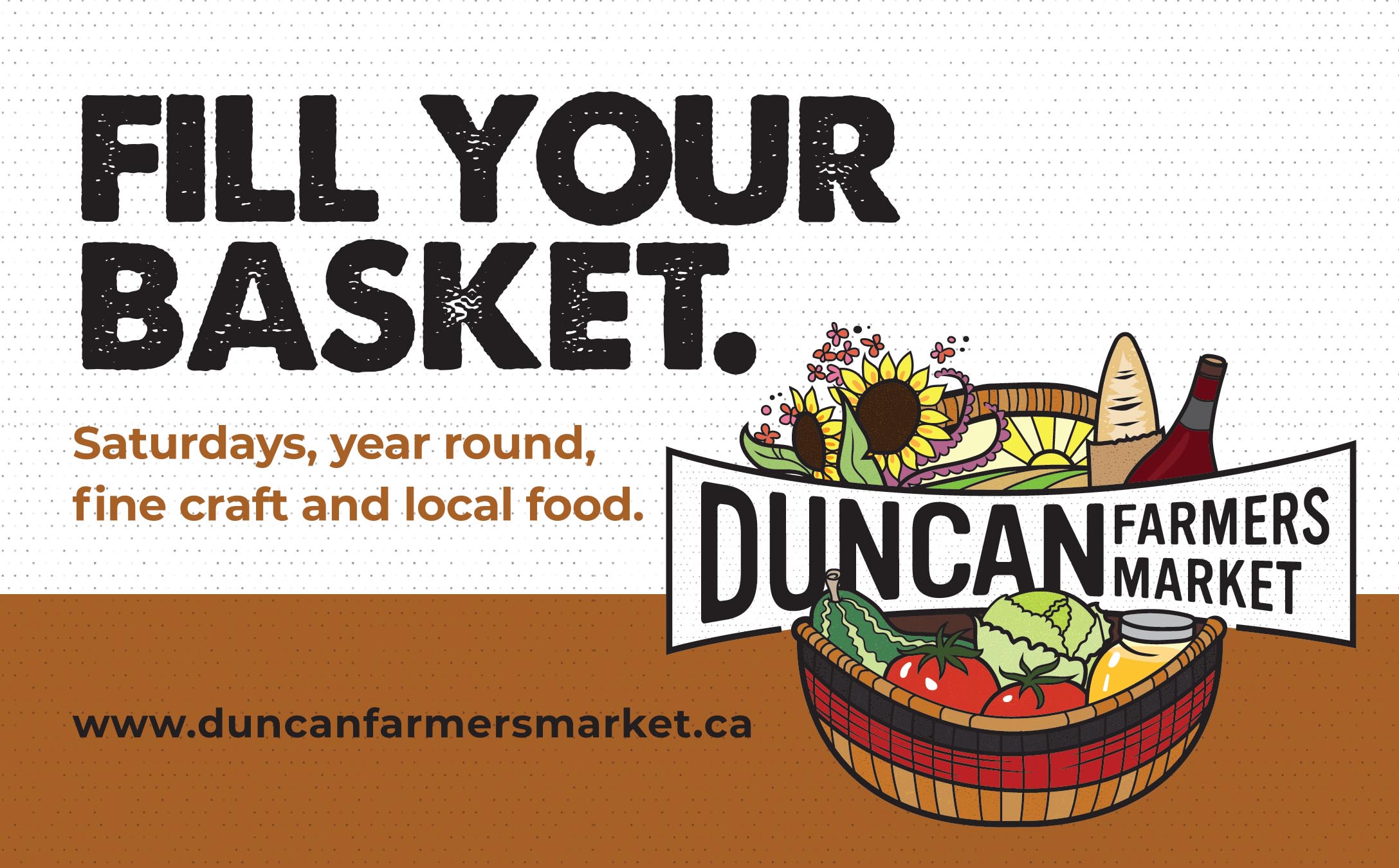 Frequently asked questions:
How many vendors to you have at the Duncan Farmers' Market?
During the peak of April to December, our market has between 90-105 vendors on any given Saturday. In the winter months of January through March, we have between 45-65 vendors each week. We have a maximum of 105 spaces available and over 150 vendor members. Ninety of those spaces are allocated to full time vendors with the remainder being used for rotating drop in vendors.
What months and hours do you operate?
The market is open 50 weeks a year from January through December. Our hours from April 1st through to Thanksgiving are 9am-2pm, then we shift to a 10am start until end of March. We are only closed for the two Saturdays following Christmas.
Does the market move indoors in the winter?
The market stays in the same outdoor location year round! We have a hearty group of vendors and customers who support the market and enjoy the variety of weather the west coast offers. 
Does the market have a governing body?
The Duncan Farmers' Market is a not for profit society governed by the rules of the BC Society's Act and by our own by-laws and constitution. We have a Board of Directors made up from vendor members as well as an Executive Director and Market Manager who work together to run the market.  In addition, we are members of the BC Association of Farmers' Market and work within their guidelines of having a make it, bake it, grow it market.
What is a C.S.A.?
Community-supported agriculture (CSA) is a food distribution system that connects the farmers directly with local food loving customers to support local agriculture, give farmers job security and allows the customer a guarantee of a share of the local harvest at a fair price.
Community Supported Agriculture memberships come in a variety of formats and can include everything from fresh fruits & veggies, eggs, meat & seafood – even honey, herbs and flowers. Several of our farmers and growers offer CSA's. Speak with your favourite farmer to find out what memberships they have available!
Are there gift certificates available?
The Duncan Farmers Market offers gift certificates in $10 denominations to use at your favourite vendor's booth. Gift certificates are available for purchase at the Market Information Booth each Saturday.
What kind of entertainment or special events does the market offer?
The market has live music from April through October on two different stages at the market. Please check out the Program section of our site for updated information. In addition, our partners at the Downtown Duncan Business Improvement Association work with us to host holiday events around Easter, Halloween, and Christmas.  Watch our Facebook page for details on weekly entertainment and special events.
Does the market have restroom facilities?
The closest washrooms are the Public facilities at the Train Station building on Canada Avenue, just a 100 metres from the market entrance.
Can I shop at the market prior to the 9am/10am start time?
While we do not have set rules around vendors selling before the market opens, we ask customers to be mindful of vendor vehicles in the market dropping off and vendors still in the midst of setting up prior to the official start time.  Some vendors are happy to accept early sales while setting up while others prefer to wait until they are fully setup.
How can I apply to sell my wares at the market?
Please review Becoming a Vendor to learn about our adjudication and registration process for the market.
What areas of the Island do your vendors come from?
The majority of our vendors at the market are from the Cowichan Valley; however we do have a number of vendors from Southern and Central Vancouver Island.
How can I find out which vendors will be at the market this week?
Our vendor map shows a listing of all vendors in attendance this week and we also post weekly on social media. If there is a specific vendor you are looking for, you can find their contact information through Find a Vendor.