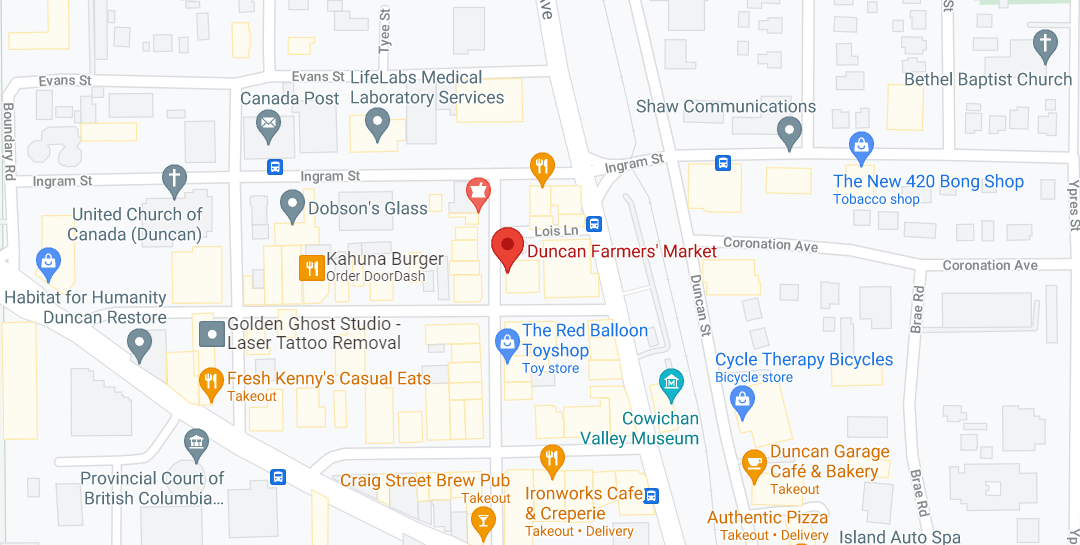 The Duncan Farmers Market is located downtown Duncan in the beautiful Cowichan Valley on Vancouver Island. Every Saturday, year round, you will find a sea of tents in the market square and down Ingram Street as, where more than 100 vendors sell their wares.  As a true farmers' market, we give priority to farmers and growers, and we also play host to an amazing array of local artisans and makers offering the unique and unusual.  
Our market offers a full array of produce, fruits in season, honeys, eggs, cheeses, meats, wines, bakery items, plants and flowers, amazing local artisan creations, pastas, jams, pickles, and many specialty items.   
Don't forget our delectable food trucks making tacos, falafels, wraps, farm to table gourmet, hot dogs, meat pies and so much more.  Plan lunch at the market and sit down and enjoy all the sights and sounds or dance your heart out to the local live music offered each Saturday!
Mail Us
PO Box 20074 Duncan, BC  V9L 5H1
Email Us
info@duncanfarmersmarket.ca